Apero Box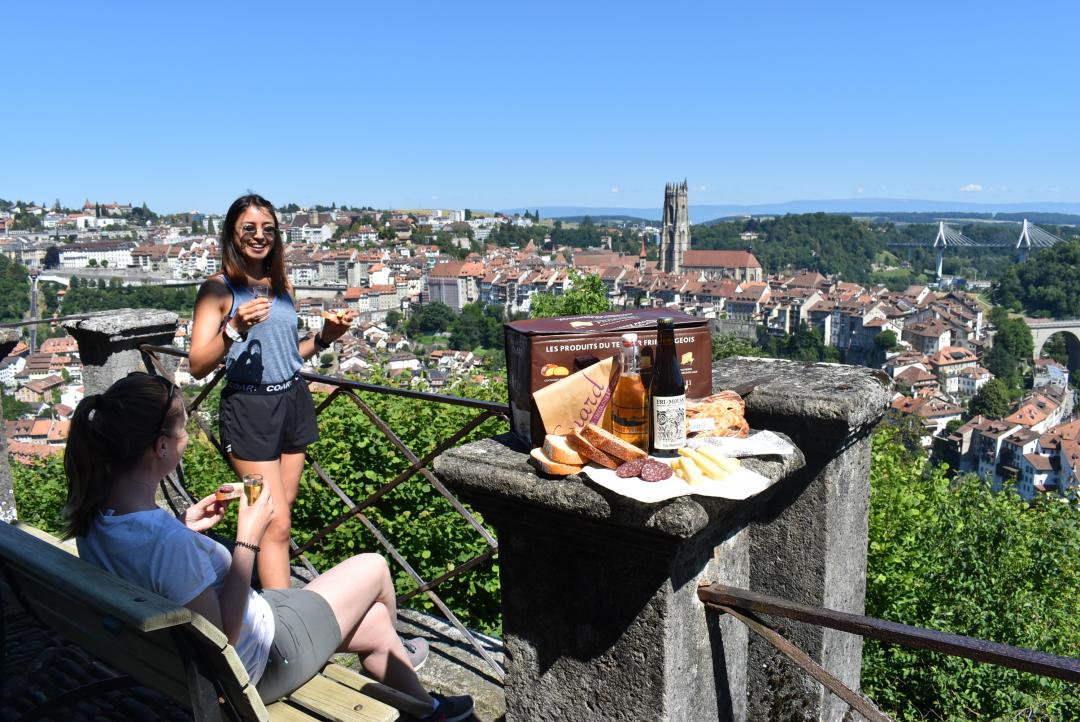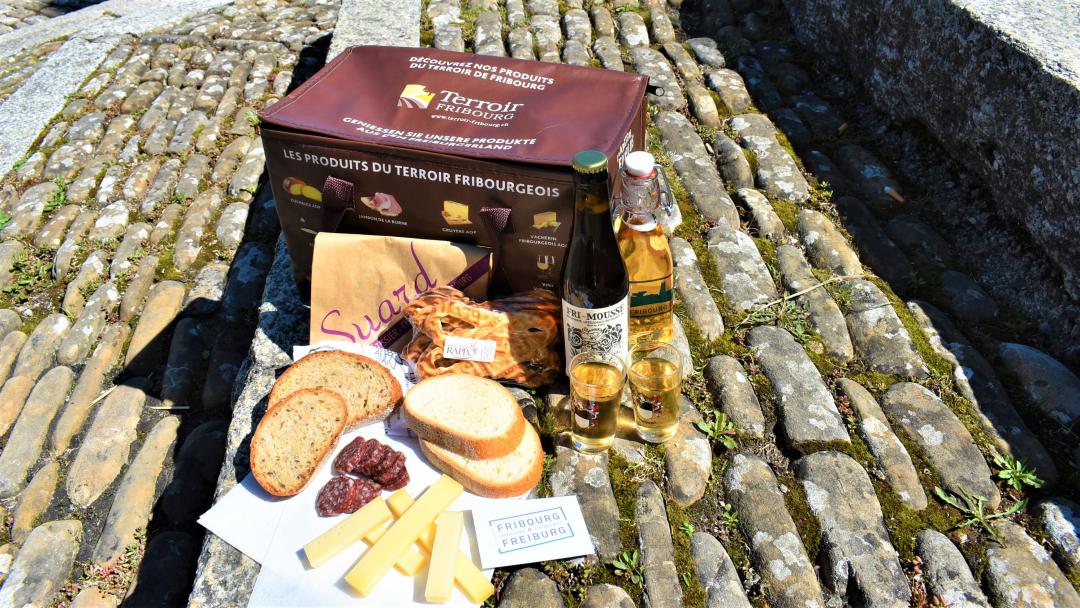 Description
Would you be tempted to go for a walk in the city with an aperitif break? Fribourg Tourism offers you its Apéro Box filled with Fribourg specialities.
Resulting from a regional collaboration between the tourist centres of the canton and Terroir Fribourg with the aim of "stay in Switzerland and consume regionally", the picnic box is available in different places in the canton and is also available as an Apéro Box for the city of Fribourg.

Each region offers you the opportunity to taste local specialities. Fribourg invites you to discover the city with your isothermal bag. It contains from CHF 19.00 local drinks, cheese, cold meats, bread and savoury snacks.

The offer is available for two or more people during the week except on Sundays and Fribourg Tourism is the only point of sale.

Box 1: CHF 26.00 per person with white wine
Box 2: CHF 19.00 per person with beer OR apple juice
= price valid from 2 persons

Reduced price for the 3rd, 5th ... additional person
Surcharge of CHF 16 with beer or wine per additional person
Surcharge of CHF 14.00 with apple juice per additional person

Child: CHF 14.00 per child

Vouchers from our partners will be given to you in order to pick up the fresh bread and cheese yourself.
---
Prices
Prices
Apero Box 1 with wine per person
26 CHF
Apero Box 2 with beer or apple juice per person
19 CHF
Additional person (3rd, 5th...) with wine and beer
16 CHF
Additional person (3rd, 5th...) with apple juice
14 CHF
Fribourg Tourisme et Région
Place Jean-Tinguely 1
Case postale 1120
1700 Fribourg
+41 26 350 11 11
info@fribourgtourisme.ch
http://www.fribourgtourisme.ch
---
Useful information
Booking and on sale at Fribourg Tourism

Offer available from 2 persons
The offer is not available on Sundays.

Our partners:
BOULANGERIE SUARD at rue de Romont
L'ARTIZAN - Laiterie Gougler in the rue de Lausanne ( hours: Mon - Fri: 09:00 - 12:30 and 14:00 - 18:30)
Sat: 09:00- 16:00 and Sunday closed)